By Jim Cline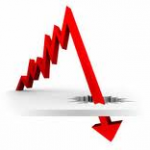 The Bureau of Labor Statistics (BLS) reports nationwide unionization rates dropped markedly in 2012, dropping from 11.8% in 2011, to 11.3%.  BLS also reported that public sector unionization stood at 35.9%, while private sector unionization was at 6.6%.  These numbers in 2011, stood at 37.0 % and 6.9%, respectively.  In the 1950s, private sector unionization stood at about 35%.
A New York Times article concerning the drop indicated:
Labor specialists cited several reasons for the steep one-year decline in union membership. Among the factors were new laws that rolled back the power of unions in Wisconsin, Indiana and other states, the continued expansion by manufacturers like Boeing and Volkswagen in nonunion states and the growth of sectors like retail and restaurants, where unions have little presence.
In Wisconsin, after the repeal of collective bargaining rights for most government employees, public sector union membership fell from 187,000 to 139,000 in a single year.  In Indiana, where a "right to work" law was enacted, unionization fell from 11.3% to 9.1%.
National labor laws governing the private sector, including enforcement provisions that make it difficult to conduct organizing campaigns are often cited as a cause for the decline in private sector unionization.  For some time, labor relations observers have noted that the drop in private sector unionization can affect the political dynamics and undermine support for collective bargaining rights for public sector employees.
One commentator recently observed:
The U.S. industrial relations system is broken, and private employers push back against unions with near impunity. Faced with employer attacks and internal tensions, union leaders have failed to broaden their movement – leaving the Democratic Party to fall back on remaining public sector unions for grass-roots mobilization. This dynamic only encourages many Republican politicians to redouble efforts to break public employee unions, counting on the fact that many voters employed in the private sector are reluctant to grant rights and benefits to public employees that they themselves have lost (or never enjoyed).
Even in states where public employee unions once flourished, more battles are looming. Public workers and their unions will remain on the defensive – until and unless all sectors in the U.S. economy experience a broader resurgence of worker rights and organization.
The recent recession seems to bring out a lot of criticism about public sector compensation practices.  Whether that criticism will continue as the economy rebounds and private sector wages start to improve, remains to be seen.