By David E. Worley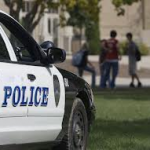 In Hall v. Village of Flossmoor Police Department (116 FEP Cases 1209), an Illinois Federal Court threw out the lawsuit of a School Liaison officer who was fired after an admitted sexual relationship with an 18 year-old, recently graduated student. The officer ultimately admitted that it occurred and had included sex in the Department vehicle. The court determined his claim that his race played a role in the termination could not survive summary judgment when the evidence of misconduct was so apparent.
While working as a high school liason officer, Hall began a relationship with a female student. Once the student became of legal age, the relationship became sexual.  After a complaint was filed by the girl's father and an investigation began, witnesses stated that Hall and the girl were having sexual relations in a police SUV while Hall was on duty.  Hall denied that he had engaged in sexual relations while on duty over a dozen times, before admitting the same.  During the investigation, it also became apparent that Hall was frequently using disrespectful, vulgar, unprofessional language on the police messaging system.   
Hall, who is African-American, alleged that he was harshly punished because of his race, and other officers of different races were treated more favorably.  However, the Court noted that Hall did not allege his race was the direct reason he was terminated, and concluded that he must therefore prove that it indirectly caused his termination.
Hall must establish a prima facie case of discriminatory termination by showing that:
(1) he is a member of a protected class; (2) he was performing well enough to meet his employer's legitimate expectations; (3) he suffered an adverse employment action; and (4) similarly situated employees outside his protected class were treated more favorably. If Hall makes this prima facie showing, the burden of production shifts to the Village to articulate a legitimate, non-discriminatory reason for Hall's termination.. If the Village can articulate such a reason, the burden of production shifts back to Hall to show that the Village's stated reason is a pretext.
The court noted that Hall satisfied the first and third elements, but failed in meeting the second and fourth elements.  As to the second element, Hall had an otherwise clean employment record. However, the "legitimate expectations" element is examined at the time of the termination, and Hall's sex while on duty, vulgar conduct and subsequent untruthfulness caused him to fail to meet those expectations:
Here, it is undisputed that having sex in a Department squad car while on duty is a violation of the Department's Rules and Regulations. Hall admitted that he had sex with Brittany Thomas in his Department squad car while he was on duty on at least two separate occasions. It is also undisputed that being untruthful during a formal Department interrogation is a violation of the Department's Rules and Regulations.  Before he ultimately admitted to his misconduct, Hall denied having sex with Brittany Thomas while on duty in his Department-issued vehicle at least fourteen times during the investigation.  It is further undisputed that sending inappropriate MDT messages is a violation of the Department's MDT policy.  In his MDT messages, Hall referred to (1) a superior officer, Sergeant Clint Wagner, as "clintoris;" (2) another officer as being under the Chief's desk and hearing "gargling" noises; and (3) Flossmoor residents as "Flossmorons."
Further, the court concluded, Hall could provide no evidence that other employees were treated more favorably.  Although he pointed to examples of other employees not being terminated for rules violations, those violations were minor in comparison to Hall's misconduct.  The court determined that the "similarly situated" portion requires that the other employees have committed similar offenses, and no such other officers existed.
There is also nothing in the record to suggest that any of them lied during a formal investigation to cover up their actions. Indeed, the Department has never had another officer have sex while on duty and subsequently lie about it.  Hall's actions were unprecedented, and it is a legitimate expectation of the Village to require its police officers to be honest, especially in formal investigations. See Department Rule J (requiring truthfulness). Thus, Hall has failed to identify similarly situated employees outside his protected class who were treated more favorably than him and, therefore, cannot establish the fourth prong of his prima facie case.
Finally, the court noted that even if Hall succeeded in providing the four elements, the city could merely argue that that firing was based on his admitted conduct, and Hall would fail in proving this reason was pretextual.  The Court explained:
 Hall argues that these reasons are pretextual and that he was really fired because he is African-American. As stated, Hall admitted to having sex with Brittany Thomas in his Department squad car while he was on duty, he admitted that this violated Department policy, he admitted to being untruthful during a formal Department interrogation, and he admitted that this untruthfulness also violated Department policy. Hall has provided no evidence that the Village's decision to terminate him based on this conduct was factually baseless, not the actual motivation for the decision, or insufficient to motivate the decision. Thus, Hall cannot establish that Defendant's nondiscriminatory reasons for terminating him were pretext for race discrimination.