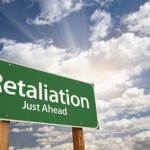 By Loyd Willaford and Sarah Burke
In Henry v. Municipality of Anchorage, an Alaska police officer claimed he was wrongfully terminated after he complained a fellow officer had been retaliated against under the Americans with Disabilities Act (ADA).  A federal district court in Alaska held that the complaining officer could recover damages for his retaliation claim under the ADA even though he himself was not disabled.
Anthony Henry had worked as a police officer for the Anchorage Police Department for twenty-three years before he was terminated in 2015. Prior to his termination, in 2011, a fellow officer informed Henry that he was suffering from a degenerative disease. After that officer was transferred to a new position in 2012, Henry went to Police Chief Mark Mew and reported he believed the transfer was a violation of the ADA and asked the Chief to stop retaliating against officers. Henry was subjected to an internal investigation and a psychological evaluation following this action.
In light of this, Henry filed a complaint with the Equal Employment Opportunity Commission (EEOC) in 2013 which was settled. However, at the same time this EEOC complaint was being settled, a second internal investigation was being conducted against Henry, without his knowledge, which ultimately concluded with a finding that Henry had not violated department policies. Ultimately, in 2015, the department terminated Henry based on claims of bad conduct during his time with the Alaska National Guard in 2010.
Henry argued he suffered a retaliatory discharge and wrongful termination, after reporting what he believed to be ADA violations. The municipality argued Henry could not pursue both claims. Further, Henry argued that he had been retaliated against in violation of the ADA. The municipality argued that because Henry himself was not disabled he could not recover damages under the ADA. The district court, however, held that Henry could pursue his claim for front pay under the ADA.
This case illustrates an important distinction in federal court remedies available to employees who are retaliated against for opposing violations of the Americans with Disabilities Act and those who are retaliated against for opposing violations of Title VII of the Civil Rights Act (involving race and sex discrimination).  Under the ADA, a plaintiff who is not disabled but alleges retaliation for opposing disability discrimination may only recover "equitable remedies," meaning court awarded relief to do justice.
This includes things like orders for the employer to change its behavior or orders to reinstate a wrongfully fired employee.  It does not normally include compensation to the employee who was retaliated against. Under Title VII, a plaintiff alleging retaliation for opposing unlawful activity can obtain punitive damages and compensatory damages (things like lost wages and damages for mental suffering).  This is in addition to the same equitable remedies which are available under the ADA. 
This difference in remedies between the two federal statutes is likely the result of a sea change in the attitude toward lawsuits to remedy discrimination which took place between the 1964 Civil Rights Act and the 1990 Americans with Disabilities Act.  Plaintiffs have much fewer rights under more recent federal law.   One hopes Congress will eventually change this, but it is unlikely with the current Congress and President.
Fortunately, some states, including Washington, have maintained robust remedies for all victims of discrimination and retaliation for opposing discrimination.   Under Washington law, there is no distinction in remedies between victims of discrimination and those who are retaliated against based on the types of discrimination involved.  However, punitive damages are not available in Washington.
**Visit our Premium Website for more information on Disability Discrimination.**